If you'd like to receive
updates about the
Winter Solabration, please

Storysmith® Susan Marie Frontczak brings literature to life,
creates stories from thin air, and hones personal experience into tales worth telling again and again. Her stories and living history presentations have taken her to schools, libraries, corporations, and theaters across 36 of the United States as well as Europe. Susan's original stories have been heard on Colorado Public Radio (Morning Edition), at the Colorado Music Festival Young People's Concert, through Story Gleaner productions, and on her CD"The Three Fishes & Other Stories." Susan Marie's motto is: "Give me a place to stand, and I will take you somewhere else." More at www.storysmith.org.
The Maroon Bells Morris Dancers
Maroon Bells Morris is the oldest of three Morris Teams now dancing in Colorado. The team has been serving the communities in which they dance since 1982, encouraging all onlookers to share the joy and luck of the Morris.
The Maroon Bells Morris Dancers are a diverse group, hailing from the greater Boulder/Denver Metro area and all walks of life. They are always on the lookout for new dancers to join in the fun. Contact Squire Robin Smith for more information, or visit us on the web at: maroonbellsmorris.org
The Solstice Sword Dancers are five members of the Bennett School of Irish Dance: Bill and Molly Bennett, Bill MacAllister, Ken Horwedge, and Beckee Laurie. As exciting as Irish dancing can be, the intricate interlacings of rapper swords adds a whole new dimension to their dancing experience. Their practices have become one of the premier spectator events at the Friendship Irish Dance Center, since nobody can believe that anyone could extricate themselves from the complex tangles of steel that are the heart of rapper sword figures. They always do, however, like so many armed Houdinis, ready to go into the next impossible tangle and amaze everyone by emerging unscathed.
See them on YouTube.




-

Breathless in Berthoud (Border Morris)

For at least five hundred years, teams of English men and women have dressed in ribbons and bells, waved handkerchiefs and clashed sticks together, and, to the music of pipe and tabor, fiddle, concertina, or accordion, danced the Morris. The Morris is a performance, not a social dance. It appears to be very ancient, but historical evidence before the Middle Ages is scarce. The Morris is traditional, dynamic, mysterious, and a little absurd. People dance the Morris because they love it.
Border Morris dancing is a style of Morris dancing originat­ing in the area of the English border with Wales. The dances are boisterous and energetic; primarily stick dances, emphasizing a thrilling performance rather than subtlety or refinement. The dancers often dance in blackface, and the dancers' "kit" is often decorated with many ribbons or strips of material, known as rags. Besides the traditional dances, collected early in the twentieth century, Border teams dance many new dances, invented in the Border counties and in the U.S.A.
Featured on the Tonight Show with Jay Leno, Breathless in Berthoud is the only Border Morris Side in Colorado. We would enjoy astonishing you, and would like to take this opportunity to inform you that we are always welcoming newcomers to experience this ancient and mysterious dance form. We practice on Thursday nights at the Barn Owl Dance Studio in Berthoud.
For more information, contact Anne or Robin Smith at robins@mesanetworks.net or visit our website.
Planina — Songs of Eastern Europe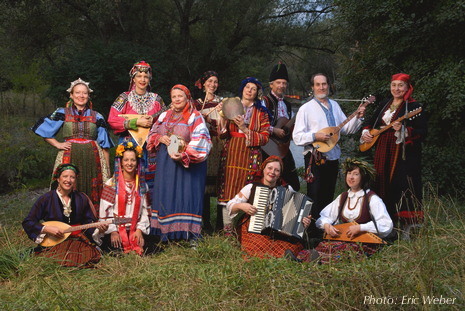 Planina is one of Denver's premier folk performance groups.  They are a group of singers and instrumentalists from the Denver-Boulder area that perform haunting and rousing music from Eastern Europe, including songs from Albania, Bosnia, Bulgaria, Croatia, Georgia, Hungary, Macedonia, Romania, Russia, Serbia, Lithuania, Turkey and Ukraine, and the Sephardic and Rom (Gypsy) traditions from some of those areas.  Though mostly not eastern European by heritage, the members share a fascination with the penetrating harmonies, asymmetric rhythms and challenging vocal techniques of this region.  They have been sharing their delight in this music with Colorado audiences since 1988.  The word Planina means mountain in several south Slavic languages.
Many Planina members have traveled to eastern Europe, including group tours to Bulgaria in 1998 and 2005, when members studied with native singers in various villages.  In addition, the group has brought teachers from eastern Europe to Colorado for workshops and performances.  Much of Planina's music is sung a cappella, ranging from village-style, sometimes dissonant diaphonic duets and call-and-response pieces, to elaborate choral arrangements by modern composers.  Other pieces are augmented by the accompaniment of musicians playing traditional instruments.
More information at planina.org
Bryan Connolly Extreme Juggling
Bryan Connolly has spent the last 10 years of his life developing a unique juggling style that incorporates various acrobatic stunts and other passions of his, such as dance and theatre. Training to join a circus school in Montreal is his current focus, although he regularly performs his fire show at house parties.
Chris Kermiet has been calling and teaching traditional American
community dances for over thirty years and is recognized as one of the finest callers in the United States.  In 2000, he received the Heritage Award/2000 Artist Fellowship from the Colorado Council on the Arts for calling and teaching traditional American dance, as well as the Westword Best of Denver Award for Best Dance Caller.  In 2009 he was honored as a "Living Legend of Dance" by the Carson-Brierly-Giffin Dance Library at the University of Denver.  His video interview can be viewed here.  During the last ten years, as well as being in demand as a caller and teacher of traditional dance, he has created choreographies for a number of performing groups and theater companies.
Chris grew up with traditional dance.  His father, Paul Kermiet, was one of Colorado's premier old time callers, and ran a summer camp on Lookout Mountain where Chris heard the best callers from around the country.  He learned from all of them, and it shows in his teaching and calling, his broad repertoire and familiarity with traditional dance, and the way he puts new dancers at ease.
Visit his personal web-site. Also Denver English Dance, the Retrodance, and Poem-of-the-Month.
Tina Fields calls contra and other traditional American "barn" dances, with the goal of creating maximum joy.  She is known for her effervescent sparkle, great sense of timing, clear projection, singing style, patience with new dancers, collaborative way of working with bands, and comfortable humor.  Tina brings day job skills as a college professor to her dance teaching. She is also a fine singer, ceremonial facilitator, voiceover artist, and storytelling orator.  She has been on staff for various dance camps as both contra caller and songleader.   Visit her web-site.
Patricia Danscen's contagious smile and energetic whimsical calling spread the passion of dance wherever she goes.  Her clear and concise teaching and welcoming smile will engage both new and experienced dancers and keep them dancing all night long!  Patricia's repertoire includes contras, squares, circles, and traditional reels.  She has called dances throughout Colorado and in several other states.
In addition to calling, Patricia plays double bass and guitar, and performed with a clogging troupe for 12 years.  Her passion for dance and music is evident as she hosts jams, co-organizes community dances, and leads dance workshops.
"I absolutely love seeing people smile and having a great time on the dance floor!"
-->
This year's musicians:
Deb Carstensen is known throughout the Colorado Front Range for her passionate, fiery fiddling.  She played classical violin up until college and, after taking a long break from the instrument, took it up as a "fiddle" and has been playing and performing folk music ever since.  She has studied Irish and Scottish intensively and is expert in playing both for dancing and performance.  Her music could be called a "Denver" style of Celtic music because there are influences creeping in from old timey music and other traditional Colorado music styles.  She also writes her own original tunes, influenced by the music she loves so much.  She has performed with numerous ensembles over the years including Highstrung, Celtic Fair, Unstrung Heroes and Deb and the Pariahs.  More about Deb at debcarstensen.com
Rodney Sauer plays piano and accordion in a wide range of ensembles and settings including American, Irish, Scottish and English traditional dancing, ballroom dancing and silent film accompaniment. His multifaceted background makes it possible for him to accompany musicians for a huge variety of dances and performances and he does so with incredible expertise and finesse. Visit his web-site.
Bonnie Carol was born on the world's largest cattle ranch in Kingsville, Texas.  She began planing music when she first accompanied her mother on piano at age 4 (whether her mother wanted her to or not).  Bonnie graduated from the University of Colorado with a degree in psychology, and worked in the field for a few years.  In 1971 when she lost a mental health job, Max Krimmel said, innocently enough, "I could show you how to make dulcimers and maybe you could do that for a living."  And so began a saga – "Well trained mental health professional becomes gypsy musician and crafts person."  By 2000 Bonnie had won most of the dulcimer contests in the nation, built 300+ fretted dulcimers, recorded five albums of dulcimer music, written five books about the dulcimer, and had performed all over the US for 30 years.  This is her fourth appearance at the Winter Solabration.  You can learn more about her at www.BonnieCarol.com.
Ed Secor learned to play the clarinet in fifth grade band, which proved fortunate years later when he found himself on the stage instead of the dance floor at a contra dance; having a clarinet in his hand at least made him look like he belonged there.  Apparently the dancers were okay with his defection, as he has for the last five years been on stage with several Front Range contra dance bands more than he has been dancing.  His career recently went international with a command performance at Istanbul's Attaturk airport at 2 am.  Not content with being a starving musician, Ed makes his living as a carpenter and construction project manager.