If you'd like to receive
updates about the
Winter Solabration, please

Storysmith® Susan Marie Frontczak brings literature to life,
creates stories from thin air, and hones personal experience into tales worth telling again and again. Her stories and living history presentations have taken her to schools, libraries, corporations, and theaters across 39 of the United States as well as Europe. Susan's original stories have been heard on Colorado Public Radio (Morning Edition), at the Colorado Music Festival Young People's Concert, through Story Gleaner productions, and on her CD"The Three Fishes & Other Stories." Susan Marie's motto is: "Give me a place to stand, and I will take you somewhere else." More at www.storysmith.org.
The Maroon Bells Morris Dancers
Maroon Bells is the oldest of the morris teams now dancing in Colorado.  We've been kicking up our heels, and jingling a few bells, since 1982 – long enough for some of our offspring to grow up and join the team.  Our dancers come from towns along the Front Range and many walks of life.  All are welcome to join us, particularly for our new dancers class each fall.  We perform locally, at festivals and for special events, as well as a few more distant spots, e.g., Red Lodge, MT, the U.S. Midwest, and, every decade or so, in England.  If you'd like to join us, please contact Squire Robin Smith for more information, or visit us on the web at: maroonbellsmorris.org
The Solstice Sword Dancers are five members of the Bennett School of Irish Dance: Bill and Molly Bennett, Bill MacAllister, Ken Horwedge, and Beckee Laurie. As exciting as Irish dancing can be, the intricate interlacings of rapper swords adds a whole new dimension to their dancing experience. Their practices have become one of the premier spectator events at the Friendship Irish Dance Center, since nobody can believe that anyone could extricate themselves from the complex tangles of steel that are the heart of rapper sword figures. They always do, however, like so many armed Houdinis, ready to go into the next impossible tangle and amaze everyone by emerging unscathed.
See them on YouTube.
Balkanika Folk is a performance group that is proud to present dances, music and songs from the Balkan Peninsula. The group has a fresh format that includes folklore from Bulgaria, Romania, Moldova, Macedonia and Greece.
Balkanika Folk enjoys performing at events and festivals throughout the state of Colorado all year round.
Visit them on the web at BalkanikaFolk.com
Bryan Connolly Extreme Juggling
Bryan Connolly is a vivacious jug­gler/ acro­bat/ fire-fiend who enjoys mixing handfuls of comedy with heaping scoops of pseudo-mortal predicaments.  Fire-eating, machete juggling, bowling ball balancing and much more are contained within this dazzling delight of danger.
More at CircusKnight.com
Abbie Lawrence, Balloons & Face Painting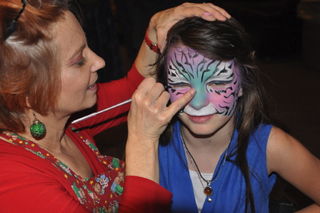 Abbie Lawrence is an award-winning artist and entertainer. Following extensive training, Abbie was invited by the Armed Forces Professional Entertainment Office to perform in Italy, Spain, England, Scotland, Germany, Turkey and the Azores. She founded Mime Time in 1982.
Abbie performs at private and public events for individuals and organizations of all types. She also teaches workshops and classes in the Denver Metro area, as well as performing at Denver Public Libraries. She teaches and performs in the Denver Public Schools as an ArtReach instructor, and she has been performing at the Winter Solabration since 2011.
Chris Kermiet has been calling and teaching traditional American
community dances for over thirty-five years and is recognized as one of the finest callers in the United States.  In 2000, he received the Heritage Award/2000 Artist Fellowship from the Colorado Council on the Arts for calling and teaching traditional American dance, as well as the Westword Best of Denver Award for Best Dance Caller.  In 2009 he was honored as a "Living Legend of Dance" by the Carson-Brierly-Giffin Dance Library at the University of Denver.  His video interview can be viewed here.  During the last ten years, as well as being in demand as a caller and teacher of traditional dance, he has created choreographies for a number of performing groups and theater companies.
Chris grew up with traditional dance.  His father, Paul Kermiet, was one of Colorado's premier old time callers, and ran a summer camp on Lookout Mountain where Chris heard the best callers from around the country.  He learned from all of them, and it shows in his teaching and calling, his broad repertoire and familiarity with traditional dance, and the way he puts new dancers at ease.
He currently leads the Denver English Dance, as well as the Retrodance.
Visit his personal web-site.
He has also been posting his poems on-line at poemofthemonth.us. For December, "Peace on Earth?"
Tina Fields calls contra and other traditional American "barn" dances, with the goal of creating maximum joy.  She is known for her effervescent sparkle, great sense of timing, clear projection, singing style, patience with new dancers, collaborative way of working with bands, and comfortable humor.  Tina brings day job skills as a college professor to her dance teaching. She is also a fine singer, ceremonial facilitator, voiceover artist, and storytelling orator.  She has been on staff for various dance camps as both contra caller and songleader.   Visit her web-site.
Patricia Danscen's contagious smile and energetic whimsical calling spread the passion of dance wherever she goes.  Her clear and concise teaching and welcoming smile will engage both new and experienced dancers and keep them dancing all night long!  Patricia's repertoire includes contras, squares, circles, and traditional reels.  She has called dances throughout Colorado and in several other states.
In addition to calling, Patricia plays double bass and guitar, and performed with a clogging troupe for 12 years.  Her passion for dance and music is evident as she hosts jams, co-organizes community dances, and leads dance workshops.
"I absolutely love seeing people smile and having a great time on the dance floor!"
Performers for this year's Grand March are members of the Northern Colorado Caledonia Pipe Band.  They are John Wharrier, Paul Landers, Dan Rousch, and Chris Doyle.  The NCCPB is a successful competition band with members from Commerce City to Greeley to Ft. Collins to Boulder and everwhere in between.
Visit the band's website for more information.  Also on
This year's musicians:
I was born in Ithaca, New York. Although I was too young to remember, my parents tell me that I displayed a real love of music from a very early age. My lullabye was Beethoven's 5th (I could not fall asleep to anything else!). I began studying the violin when I was seven years old with the intention of becoming a concert violinist. This was my sole focus for the next 15 years until I discovered fiddling, and my entire musical world turned upside down! Suddenly music became about connecting with other people in a joyful way with a community focus rather than isolating and striving for perfection of form. This discovery challenged (and continues to challenge) the very foundation I developed in my classical training, and invited me to set foot on a new and wonderful path of adventurous musical exploration. It began with Irish, Old-time and Bluegrass jams and festivals, and has grown into my current livelihood of teaching, performing, recording and collaborating with other musicians from a diverse range of world music genres.

To date, I have released two solo albums, "It's About Time" and "Joy" , along with two collaborations, "Sandra Wong and Dominick Leslie - A CD of original tunes and folk music from around the world" and "Frolic and Romp" with Ryan Drickey. All are available at Sandra Wong Music.
Rodney Sauer plays piano and accordion in a wide range of ensembles and settings including American, Irish, Scottish and English traditional dancing, ballroom dancing and silent film accompaniment. His multifaceted background makes it possible for him to accompany musicians for a huge variety of dances and performances and he does so with incredible expertise and finesse. Visit his web-site.
A clarinet player since grade school, Ed Secor escaped the confines of classical music in 2005 when a friend suggested he bring his clarinet to a contra tunes jam.  While he still plays in a classical quartet, the last ten years has seen Ed exploring a number of different musical styles, and performing in several Front Range contra dance bands.  When not playing music, Ed amuses himself with carpentry and woodworking.